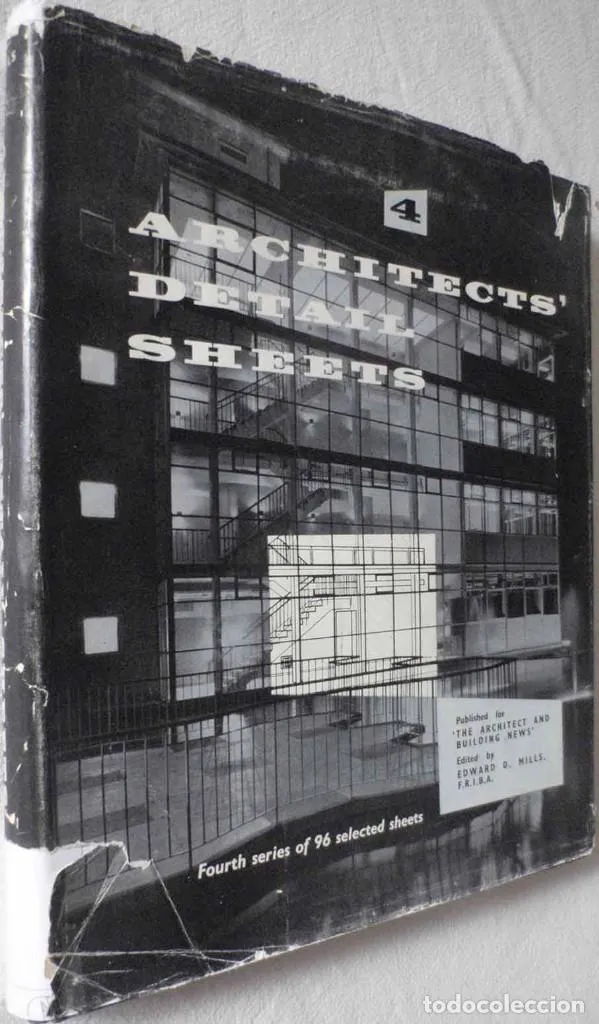 Architects' detail sheets. Fourth Series.
Edited by : Edward D. Mills, F.R.I.B.A.
Iliffe and Sons Limited. London 1958.
This is the fourth selection to be published in book form of the Architects' Detail Sheets which, since 1948, have been appearing as a regular, and deservedly popular, weekly – feature in THE ARCHITECT AND BUILDING NEWS. The demand for the first three Series was so great that when the first two finally went out of print it was decided to publish a special selection of 110 of the more outstanding designs from them wider the title of Selected Architects' Detail Sheets. First published in the Spring of 1958, this volume, too, met an immediate response.
The Publishers confidently expect that the demand for the present volume will exceed that of its predecessors, because, in their opinion, this selection is the most useful and interesting so far published.
Like the earlier Series, it contains 96 specially prepared scale drawings of contemporary architectural details, and over 100 associated photographs. The examples have been supplied by well-known architects from all over the world, and include 12 from the United States of America and 3 from Canadian sources. For ease of comparison the Details are grouped under thie following headings: balconies; entrances and shop-fronts; fireplaces; fittings; stair-cases; wall details; windows ; and miscellaneous. The main emphasis has been laid on wall details, of which there are no less than 23 examples, including curtain walling, Once more the glossary of architectural terms in English, French, German and Spanish has been included, as it has been found of considerable value to architects and students overseas.
It is generally agreed that the life of a building depends as much on the details of its construction as an upon the quality of materials and workmanship. It is hoped, therefore, that this volume of Architects Details collected from many countries will help to maintain the general standard of architectural detailing and be of as mudi assistance, as the previous volumes have proved to be, to architects, students, and all those connected with the erection of buildings.
[es] Esta es la cuarta selección que se publicará en forma de libro de las Hojas de detalles de los arquitectos que, desde 1948, aparecen como una característica semanal regular y merecidamente popular en THE ARCHITECT AND BUILDING NEWS. La demanda de las tres primeras Series fue tan grande que cuando las dos primeras finalmente se agotaron, se decidió publicar una selección especial de 110 de los diseños más destacados de ellos, más ampliamente el título de Hojas de detalles de los arquitectos seleccionados. Publicado por primera vez en la primavera de 1958, este volumen también recibió una respuesta inmediata.
Los editores esperan con confianza que la demanda del volumen actual exceda la de sus predecesores, porque, en su opinión, esta selección es la más útil e interesante publicada hasta ahora.
Al igual que la serie anterior, contiene 96 dibujos a escala especialmente preparados de detalles arquitectónicos contemporáneos y más de 100 fotografías asociadas. Los ejemplos han sido suministrados por arquitectos conocidos de todo el mundo, e incluyen 12 de los Estados Unidos de América y 3 de fuentes canadienses. Para facilitar la comparación, los Detalles se agrupan en los siguientes encabezados: balcones; Entradas y fachadas; chimeneas; guarniciones; cajas de escaleras; detalles de la pared; ventanas y misceláneos. El énfasis principal se ha puesto en los detalles de las paredes, de los cuales no hay menos de 23 ejemplos, incluido el muro cortina. Una vez más, se ha incluido el glosario de términos arquitectónicos en inglés, francés, alemán y español, ya que se ha encontrado de considerable valor para arquitectos y estudiantes en el extranjero.
En general, se acepta que la vida de un edificio depende tanto de los detalles de su construcción como de la calidad de los materiales y la mano de obra. Se espera, por lo tanto, que este volumen de Detalles de arquitectos recopilados de muchos países ayude a mantener el estándar general de detalles arquitectónicos y sea tan útil como lo han demostrado los volúmenes anteriores, para arquitectos, estudiantes y todos aquellos Conectado con la erección de edificios.